African Democracy Project
Dr. Irvin D. Reid, president emeritus of Wayne State University, presented for a virtual Knowledge on Tap conversation about African democracy on January 26, 2021 via Zoom. The evening's entire recorded presentation.
While rooted in Detroit, the Irvin D. Reid Honors College connects students to the entire globe. Among its global projects is a new documentary on African democracy.
In 2008, Dr. Irvin D. Reid, president emeritus of Wayne State University, established the African Democracy Project, bringing Honors students and others to Africa for a close look at democratic progress on the continent. From this exploration, the documentary "African Democracy: Hope and Challenges" emerged. The documentary is based on more than 200 interviews of citizens of six African countries as well as nearly 75 U.S. students. The project was initially funded by the Eugene Applebaum Chair in Community Engagement with the support of Applebaum Family Philanthropy.
The 90-minute documentary explores responses to several critical questions: What were citizens' hopes and dreams? Where did they think African democracy ranked among the different countries? To what extent do national leaders share governance with local authorities? What do they see as African nations' greatest challenges? Did they think that corruption is a serious challenge? Finally, are they optimistic for the future of democracy on the continent?
A number of current and former Presidents as well as other prominent African citizens were interviewed for the documentary, including Jerry Rawlins, former elected President of Ghana and coup d'état leader; John Mahamma, former elected President of Ghana; Samuel Nujoma, first president of Namibia (3 terms); Hage Geingob, First Prime Minister, current president of Namibia; Hilfekunye Pohamba, Second President of Namibia; Ellen Johnson Sirleaf, President of Liberia after civil war and Nobel recipient; Amos Sawyer, transitional president of Liberia during post civil war election; Moses Blah, Vice President, interim President of Liberia after civil war; Festus Mogae, former second president of Botswana; Joachim Chissano, former second president of Mozambique; Afonso Dhlakama, civil war leader, Mozambique; Kwame Pianim, presidential candidate who was imprisoned; Nora Schimming-Chase, former ambassador to Germany from Namibia; and Leymah Gbowee, Nobel laureate for leadership in seeking peaceful end to civil war. Presidents Chissano, Pohamba, Sirleaf, and Mogae are four of the first 5 presidents to receive the Mo Ibrahim award for leadership in African democracy.
The documentary also includes footage of six historical figures in the evolution of democracy on the African continent. They are Kwame Nkrumah of Ghana, Jomo Kenyatta of Kenya, Somora Machel of Mozambique, Julius Nyeree of Tanzania, Patrice Lamumba, of Congo and Nelson Mandela of South Africa. Archival images and footage are also included of other contemporary African leaders such as Nana Akufo Addo of Ghana, Mohammadu Buhari of Nigeria, and Cyril Ramaphosa of South Africa.
Finally, the documentary includes interviews with American students confronting stereotypes that shaped their own perceptions of and expectations about African democracy. This exploration not only expanded their horizons but also deepened their understanding of their own government, its accomplishments and challenges. 
Awards and Recognition for "African Democracy: Hope and Challenges"
ONIROS Film Awards 2021
BEST 1st TIME PRODUCER AWARD
(Irvin D. Reid, Darryl Shreve, John K. Awotwi)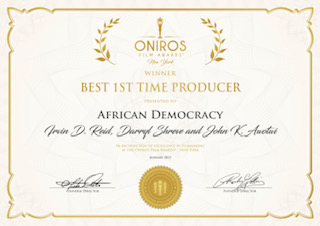 ONIROS Film Awards 2021
BEST ORIGINAL STORY AWARD
(Irvin D. Reid, Darryl Shreve)
New York International Film Awards
BEST DOCUMENTARY FEATURE
(Irvin D. Reid)
Awards and Recognitions for "African Democracy: Hope and Challenges" include:
BARCELONA INTERNATIONAL FILM FESTIVAL - Barcelona, Spain *BEST FEATURE DOCUMENTARY - SEMI-FINALIST
ATHENS INTERNATIONAL MONTHLY ART FILM FESTIVAL - Athens, Greece *HONORABLE MENTION
FLORENCE FILM AWARDS - Florence, Italy *FEATURE DOCUMENTARY - HONORABLE MENTION
KATEYE INTERNATIONAL FILM FESTIVAL - Kolkata, India *DEBUT FILMMAKER - OUTSTANDING ACHIEVEMENT
KATEYE INTERNATIONAL FILM FESTIVAL - Kolkata, India *DOCUMENTARY - OUTSTANDING ACHIEVEMENT
MILAN GOLD AWARDS - Milan, Italy *FEATURE DOCUMENTARY - SILVER AWARD
ONIROS FILM AWARDS - New York *BEST 1ST TIME PRODUCER - WINNER
ONIROS FILM AWARDS - New York *BEST DOCUMENTARY FEATURE - RUNNER-UP
ONIROS FILM AWARDS - New York *BEST 1ST TIME DIRECTOR - RUNNER- UP
ONIROS FILM AWARDS - New York *BEST ORIGINAL STORY - WINNER
NEW YORK INTERNATIONAL FILM AWARDS - New York *BEST DOCUMENTARY FEATURE - WINNET
2021 ARFF//BARCELONA/INTERNATIONAL AWARDS - Barcelona, Spain *BEST DOCUMENTARY - SEMI-FINALIST
TORONTO FILM CHANNELS AWARDS - Toronto, Canada *BEST FEATURE DOCUMENTARY - WINNER