Detroit Fellows Tutoring Project
The most popular Honors College service-learning course, the Detroit Fellows Tutoring Project will allow you to earn 2, 3 or 4 credits for teaching reading skills to children in kindergarten through second grade in Detroit Public Schools. This opportunity is open to all WSU undergraduate students.
Requirements
Attend an orientation and five seminars where you will be trained in helping students in grades K – 2 improve their reading skills.
Tutor in a Detroit Public School three to seven hours a week for one semester.
Complete several assignments about your experience.
The tutoring schedule will be based on your availability and the number of credits for which you sign up.  Tutors work during regularly scheduled school hours:  7:30 a.m. to 3:30 p.m.
You will work one-on-one with your students and see each student twice a week in 30 minute tutoring sessions
How to participate 
Register at academica.wayne.edu for HON 4930 and elect 2, 3 or 4 credit hours, based on your weekly time commitment.
2 credit hours=3 hours of tutoring each week 
3 credit hours=5 hours of tutoring each week
4 credit hours=7 hours of tutoring each week
Learn more
Watch to learn more about the Detroit Fellows Tutoring Project through the perspectives of one of our WSU student tutors.
For more information, email detroitfellows@wayne.edu or call 313-577-3030.
Detroit Public Schools (DPS) Partner Schools
Detroit Fellows Tutoring Project currently serves eight DPS sites:
Bunche Elementary-Middle School
Clark Preparatory Academy
Gardner Elementary School
Golightly Education Center
Harms Elementary School
Hutchinson@Howe Elementary and Middle School
Maybury Elementary School
Roberto Clemente Academy
View map of our DPS partner schools (referred by green pinpoints):
Comments from WSU students on the Detroit Fellows Tutoring Project:
Being part of the Detroit Fellows Tutoring Project has been one of the most inspiring and eye-opening experiences I have had at Wayne State University.  Having the opportunity to give back to the community and impact the lives of those children in a direct approach was a powerful journey.

– Ghadir Mozeb
The Detroit Fellows Tutoring Project is one of the most uniquely designed courses I have taken.  I enjoyed how much interaction this course prompted me to have with the community.

– Ramasahitya Karra
Through taking the Detroit Fellows Tutoring Project I have evolved in a way that will benefit me for the rest of my life. I'm more determined to work in the community and continue to work and tutor/help students that need it. This program has taught me valuable skills that I will use throughout my life.

– Stephanie Hana
The Tutoring Project began in 2003 as a collaborative effort between Guy Blackburn, the project's original coordinator, Kevin Rashid, the Honors College Curriculum and Research@Honors Coordinator, and Dale Thomas and Marcella Verdun, who worked in Detroit Public Schools as a reading coordinator and elementary school principal, respectively.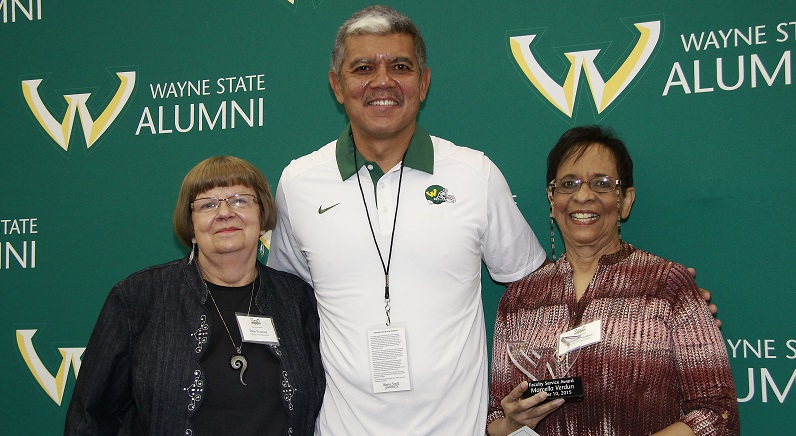 Project coordinators Dale Thomas (left) and Marcella Verdun are
presented with a Faculty Service Award by WSU President
Wilson in Oct. 2015.
Thomas and Verdun took over the course full-time in 2006 when Blackburn passed suddenly. Since 2006, a total of 1069 WSU students have gone through the course, tutoring 4,972 DPS students over a course of 56,715 hours.
"Together, the coordinators are a brilliant and selfless team dedicated to a critical mission: offering our WSU students skills in tutoring and an organized, profound experience in service while supporting Detroit's children at a crucial, early stage in their development of reading skills so they can catch up and excel," says Kevin Rashid.
Thomas and Verdun were awarded the Alumni Association's 2015 Faculty Service Award. The award is given to WSU faculty "whose professional or civic efforts have brought about a greater appreciation to the university's contribution to community service.