Kamali Clora Public Health, 2021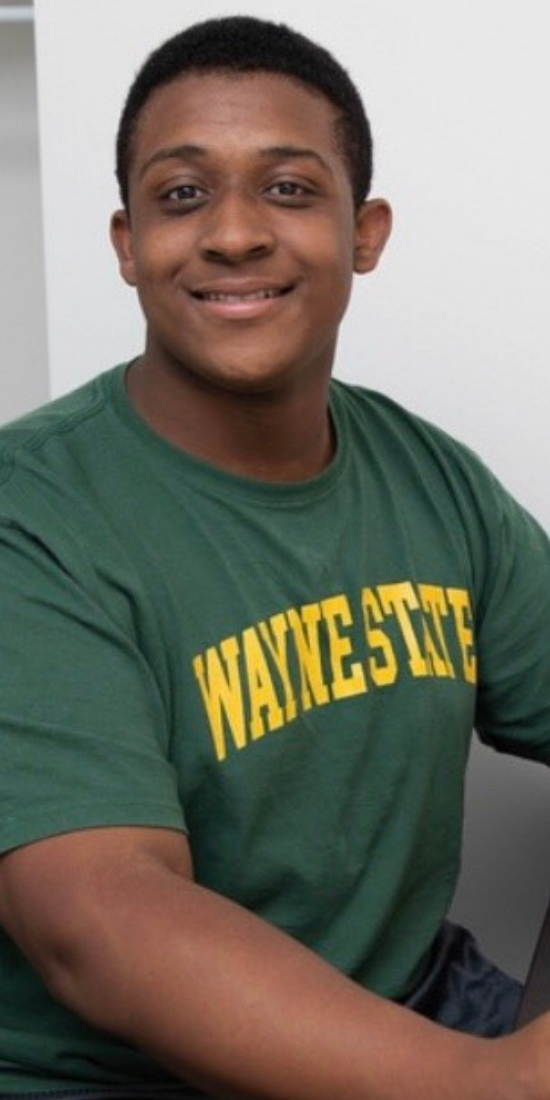 Your name, major and prospective year of graduation
Kamali Clora, Public Health, 2021
What are you involved in that you would like featured in Honors publications/website?
I am a Pre-Med student pursuing a B.S. in Public Health with a minor in biology. I serve as a peer mentor for Warrior VIP/ Network learning communities facilitated through the Academic Success Center. In addition, I am a ReBuilDetroit Scholar, as well as, an undergraduate research assistant in the Biological Sciences Department. I was a Time Capsule Committee representative for the Office of Multicultural Student Engagement, for Wayne State's 150th year celebration. I hold leadership positions in several organizations on campus. For instance, I am the current president of Residence Hall Association, a board member for the Student Activities Funding Board and Treasurer for The Brotherhood. I also contribute to various community service opportunities including Keep Growing Detroit, Children's Center, Detroit Rescue Mission Ministries and The Downtown Youth Boxing Gym.
How has Honors prepared you for your accomplishments?
The Honors College curriculum encourages students to think critically and introspect on their role within the community. In these settings, I am able to identify and personal and academic strengths and weaknesses. I now consider myself to be a self-driven person who excels due to my disciplined work ethic and passion for goal accomplishing. I gained leadership and communication skills, which have made these qualities the best I possess, allowing me to be respected and admired by both my colleagues and fellow employees. I am constantly looking for a challenge, in which these experiences provided, permitting me to further develop my veracity, poise and commitment. I have learned the skill of time management and prioritization in order to balance work, school, and personal activities. I have become quite erudite on utilizing these skills to positively influence and foster success amongst peers and faculty. My tenacity and willingness for continued growth allowed me to use these skills to impact various settings, such as school, community organizations etc. These opportunities will mature me as a student and person, enabling me to apply these acquired capabilities to future coursework and job opportunities.
How has your major shaped your career path?
My aspirations toward eliminating health disparities and inequity in our communities is to be a proponent of community wellbeing providing all people the right to health. By serving as an advocate to gather engagement across societal spheres, we can develop community-based solutions to health issues. Through education, public policy and interpersonal communication we can improve the overall health quality of underserved populations. Public health is a gateway for me to incorporate these same principles into the medical field.
What makes Honors at WSU unique?
By being able to be at a University that offers safe environments, diversity and inclusion; I am able to express my interests and passions through extracurriculars. WSU Honors fosters social learning environments where all students can succeed. Not only do I gain knowledge academically but accumulate valuable life experiences and memories of interacting with people, implementing change, and positively impacting my communities. Being in the Irvin D. Reid Honors College has prepared me for the many settings the professional realm encompasses. I have had opportunities to get out of my comfort zone opening my eyes to new horizons and new perspectives. College is a multifaceted construct in which provides a myriad of avenues to learn, grow and succeed. The Honors College allows you to truly maximize your collegiate experience.
What's your most memorable experience in Honors?
My most memorable experience in Honors was being able to interact with the students at Roberto Clemente Academy during the Detroit Fellows Tutoring Project. My experience as a tutor was an enlightening one. I surely came out of this experience with a different outlook on education, children interaction and learning in general. I highly recommend this course to all Honors College students.