Raghav Talreja Biomedical Engineering, 2019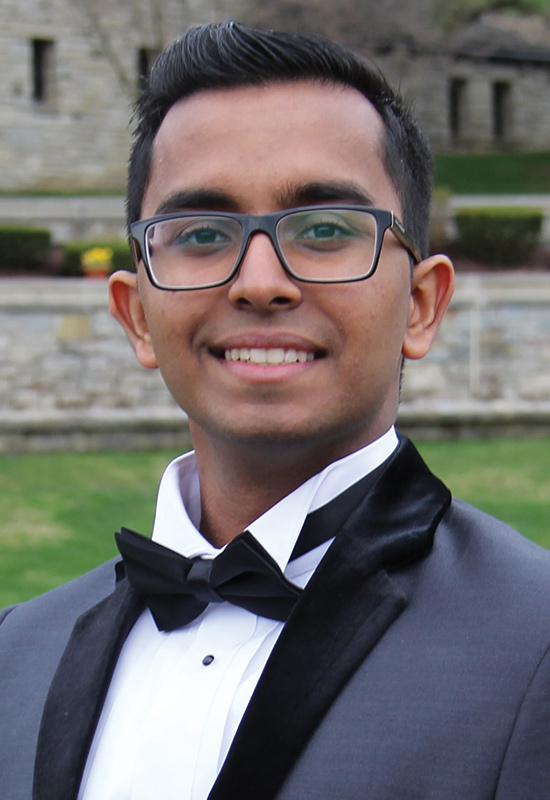 Your name, major and year of graduation
Raghav Talreja, Biomedical Engineering, May 2019
What are you involved in at Wayne State?
Biomedical Engineering Society Treasurer, American Medical Student Association Committee Member, NHSMUN 2016 Administrative Assistant Director, Troy Beaumont Hospital Emergency Room Volunteer
How has Honors prepared you for your accomplishments?
The honors college at Wayne State University, closes aligns with my personal goals and ideology of what it means to be an involved and successful leader on campus. As a freshman, I am very much involved in the community primarily through service. I have over 150 hours of service at Beaumont Hospital. I am involved in student organizations on campus which hold events to make the community we live in a better place. In particular, I manage the finances for the Biomedical Engineering Society and help to create events to give back to the community through academic and career preparation, social bonding, and community service events. I believe that I conduct myself in accordance with the expectations of the Honors College, and represent a model Honors Student at Wayne State University.
How has your major shaped your career path?
As a freshman student, I have chosen to follow the path of Biomedical Engineering with University and Departmental Honors while on the Pre-Medical Pre-Professional track. Prior to joining the BME program at WSU, I considered all my options. In the end, WSU BME was the best program that gives student the best opportunities in professional and career development, and for me the option to do a pre-med track with it. Though it is a tough path, I believe I can do it. So far, BME has given me the opportunity to work with a real life client. We have been given a project to design and prototype a prosthetic limb for a dog who was amputated. Opportunities like these have given me an outlook into what it means to be a biomedical engineer, even though I hope to eventually go on to medical school and become a doctor. A biomedical engineering degree will set me apart from other applicants and give me a unique lens when understanding the human body.
How has your perception of Detroit changed since attending WSU?
My perception of Detroit has changed drastically since I joined WSU. I moved to Michigan 3 years ago before the start of my Junior year of high school. I lived in Vancouver, Canada previously. I did not know much about Detroit other than what blurred image that I had through media, portraying Detroit as a ghost town. Still I looked forward to attending the prestigious International Academy High School. When I came here I realized that Detroit is much more than what I had imagined. My perspective changed even more after living on campus. Midtown is a very lively place in a town that is rebuilding itself and establishing its place in the United States as a center for trade and commerce. Coming to WSU and taking "The City" course the first semester really changed my perception. I understood what had happened and how it happened. This semester I can see the solutions to some problems and make a tangible effort in making Detroit great again.
Tell us about your experience with an internship, service or a research project.
I aspire to be a doctor one day. To validate my passion I volunteer at Beaumont Troy. Over the past 150 hours of service, I have had many enlightening and educational experiences regarding the health care industry. One experience that I will never forget happened this past December.
During my time in the recess room, a small baby who was 7 months old was brought into the ER. She was unresponsive and had severe abdominal swelling. It was clear in her situation that she was fighting life and death at that moment. The atmosphere in the ER room was very different than normal. I could feel the sense of fear, despair and grief in the air as doctors tried their best to save the child, but they couldn't. This was my first direct experience with death. A person lost their life right in front of me. I felt the frugality of life at that instant and emotions were so intense that all present had tears in their eyes. Her dad brought her in and there was an acute sense of carelessness in the father's actions from the beginning. He did not seem concerned by the fact that his daughter was dying, in fact he went outside and smoked a cigarette. However, after the pronunciation of death by the doctor, the atmosphere changed as he ruled the death as a homicide and held the father responsible. Death occurred due to a severe blow to the abdomen, similar to an adult punch. He had no emotion of remorse nor and humane emotion of grief. Police arrested the father and then I left the recess room. This experience left me very emotionally attached and overwhelmed to what had just happened, but was also a reminder that as doctors we must realize that we are not God. We are confined by the boundaries of scientific knowledge and must try our best. After which we must leave it to God.
Experiences like these test our human nature. They nurture citizens who understand their place in our world, impacting their lives and cause them to become better people. I think this is what the Honors College is about.