Kaylani Benson Occupational Therapy, 2020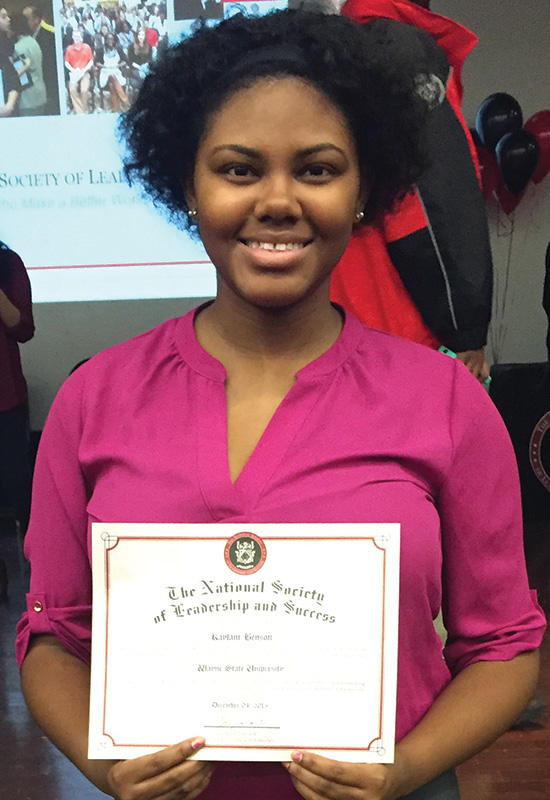 Your name, major and year of graduation
Kaylani Benson, Occupational Therapy, 2020
What are you involved in at Wayne State?
National Society of Leadership and Success, National Society of Collegiate Scholars, Pre-Professional Medical Society, Irvin D. Reid Honors College, Community of Scholars, Student Assistant at Purdy/Kresge Library
How has Honors prepared you for your accomplishments?
Honors started preparing me for all of my accomplishments from the very first day of class during my freshman year. Honors 1000 helped me to better understand the city that I was born and raised in, Detroit. PS 1010 actually made a U.S. government class extremely interesting and gave me a different perspective on things. When it comes to service, I have been volunteering with the Honors College since my freshman year, and I am currently a sophomore. I volunteer for open houses, Scholars Day, and other campus events. I think the exposure is a wonderful thing and helps me build my communication skills. I also plan to participate in one of the Honors volunteer classes in the Winter of 2017. Research and career are the only two pillars that I haven't reached yet, but I know during my junior and senior years they will help prepare me for my future.
How has your major shaped your career path?
Since my major is occupational therapy, that will put in me in the medical field which is where I have always wanted to work. My mother is a registered nurse who graduated from Wayne State and seeing how successful and independent she is has influenced all of my decisions. Giving back to my community and helping those that cannot help themselves is something that I am very passionate about. The health care professions guarantee job security because, unfortunately, people will always be sick or injured, but knowing that I can play a part in their healing and recovery excites me. I just want to be the best me that I can.
What's your most memorable experience in Honors?
My most memorable experience in Honors were the passport events that we were required to attend during Honors 1000. I've lived in Detroit all my life and got to go to places that I hadn't visited yet, like the Redford Theatre. However, I'd gone to the DIA and Orchestra Hall before but never during a class that focused 100% on the city of Detroit. These events gave me the opportunity to view things that I thought I knew all about, when I actually didn't know the background. That was the best part about that class because I am trying to be a well-rounded, cultured individual in society.
How has your perception of Detroit changed since attending WSU?
Since I started at Wayne State in August of 2014, I gained a greater appreciation for my city. I have attended schools in Detroit since daycare, but never anywhere far from my home on the west side of the city. Being in midtown in such an incredible experience. Being just a short drive from downtown and my home is very convenient. I love being in the museum district because I enjoy learning and history. On nice days, I like to just walk around and admire the beautiful campus. Whenever I hear people talk down on Detroit, it upsets me because they don't know how resilient this city is and how strong and educated all of its residents are.