Honors student selected for full tuition scholarship at University of Michigan Medical School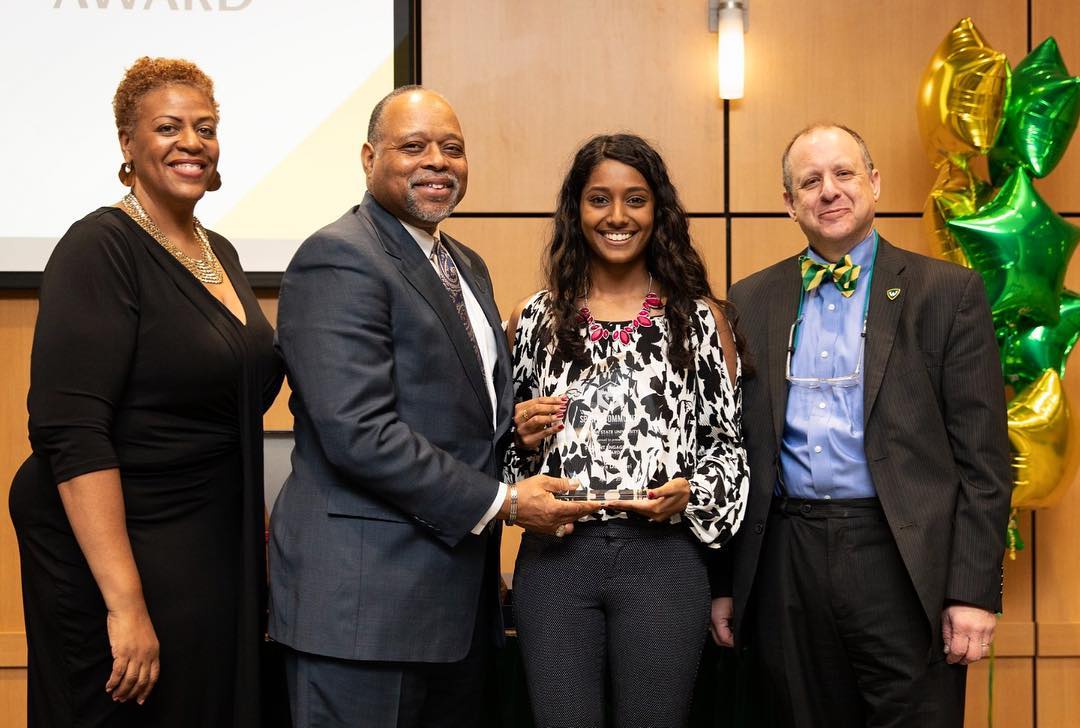 Kavya Daviluri graduated from Wayne State with a bachelor's of science in Psychology (with University Honors) and an undergraduate certificate in Entrepreneurship and Innovation from the Mike Ilitch School of Business. She recently received the Michigan Innovation and Medicine Scholarship from the University of Michigan, which covers the cost of four years of medical school and graduate housing. Honors interviewed her about her scholarship, her time in the Honors College and at Wayne State, and asked about her future plans.
How do you feel about getting into the University of Michigan's Medical School and receiving the MI Med Scholarship (full-ride tuition and housing scholarship)?
Just getting into U of M, I was just incredibly surprised and just immensely blessed to receive admission, and so receiving the scholarship was completely uncalled for and very unexpected.
When did you find out you received the scholarship?
I received the email that I got it 40 minutes before an exam that I had. I turned the laptop over to my friend and I was like could you read this to confirm I'm reading what I'm reading and she read it over and said Kavya, I think you have a full ride. And so was I in complete shock.
So I think, they really didn't give me an explanation, but due to the nature of the scholarship I'm led to believe that it's because of my inter-disciplinary background while I was an undergrad at Wayne State. I worked on OptimizeWayne and I worked very heavily on my social impact, social entrepreneurship, and innovation realm. So I worked on OptimizeWayne, I worked with the Provost's entrepreneurship and innovation steering committee, I interned at Invest Detroit, which is a local venture capitalist firm; and throughout my application process and my interview process I was very vocal about my passion for entrepreneurship, my interest in getting a dual degree The MD/MBA while I was at u of m, and kind of the possibility of intertwining these two fields. So I think that them seeing that I have this interdisciplinary background and I was choosing medicine, not because I was putting aside my other interests but because I wanted to see a confluence of these two interests that I had, that was probably why did they gave me a scholarship.
Why did you choose to apply to the University of Michigan?
Apart from U of M being so close to home and being such a prestigious institution, they had a lot of programs and opportunities that I think were unique. They offer global rotations. So if I want to do specific rotations while in medical school in an international country, I would be able to do that. If I wanted to try rotating in a different part of the country, I could do that. They also offer the MD/MBA program, which was very interesting to me, and the organizations and the opportunities…are extremely plentiful. The research opportunities, particularly in kind of the humanities confluence with Medicine which is something that I'm interested in because my psychology background at Wayne State; they just kind of check off a lot of boxes that were very personal to me and opportunities that I wanted to have a medical school.
What are you looking to do with your career?
Truth be told, I have absolutely no idea. So when I started OptimizeWayne and I became really interested in entrepreneurship and kind of the social impact space, it felt like medicine and entrepreneurship are mutually exclusive. And I'm beginning to discover they aren't. I think at U of M, in particular, they offer such a multi-disciplinary interdisciplinary kind of format of educating their medical students. So there's plentiful of opportunities for me to kind of explore what I want to do that combine these two fields. If I want to kind of become a practicing doctor for a few years and then eventually kind of go into the venture capital space, or if I want to kind of explore other career opportunities. So it's very undefined right now, and I think that even the specialty that I want go into.
Everyone is asking, oh, you got into medical school, what specialty do you want to do? I have no clue because I came in to Wayne State wanting to go into Pediatrics, but then being so close to the DMC and Henry Ford I had a lot of opportunities to work in the ER, both at Harpor Hutzel and Henry Ford ER working as a scribe and doing research. So the ER kind of interesting environment. So kind of playing around with those.
So you're interested in the social entrepreneurship/social aspect of medicine?
I got my major in Psychology at Wayne State, so that definitely kind of geared me towards humanities, towards social sciences and then kind of plugging that into medicine. By working in, you know, the health care institutions in Detroit, you see a lot of health care social deterrents of health and how healthcare kind of influences the health outcomes of the marginalized populations in Detroit. So plugging that into OptimizeWayne and seeing all these different students from Detroit, from, you know the southeastern Michigan region, coming in and seeing these injustice's from their childhood and wanting to rectify those, it really kind of created this cohesive view for me of how I want to use both entrepreneurship and medicine to empower others to receive this baseline levels health care that they need to really actualize their own vision, their own missions. But I think that just being in Detroit and having the opportunity to connect with so many diverse individuals, and work at such impactful institutions, has really allowed me to better understand my purpose and what I want to do going forward.
We know you did OptimizeWayne. What else did do at Wayne State?
So I did the Hands-Only CPR Challenge with Cedric Mutebi, and then I led Timmy Global Health and last year I was part of
that organization from my freshman year and then i was president of it this past year is the senior. Interestingly, Cedric and I were talking and I asked him how would you feel if I try to start up at Hands-Only CPR Challenge at Michigan and kind of put a little bit more force behind it. And he was like, oh Kavya, I was expecting you to do that. So I'm excited to kind of continue working with Cedric in whatever capacity I can, especially around the Hands-Only CPR Challenge. I was an RA and then I was working with Dean Corvino, the provost and Anna Maria on Wayne Engage.
Talk briefly about being selected as the Student Recipient of the Spirit of Community Awards.
That was so Sergio who I work with in numerous capacities. His sister won that last year and so when she won, I was like, oh wow this is such a great honor, and she seem super or exhilarated by it. He kind of observed that and he very sweetly led this kind of little nominations campaign where he reached out to a few people in the community that he knew had recognized my hard work and he asked them if they would be willing to nominate me. And I hadn't heard about any of this until after the fact, until after I won the award. I was very honored and the timing it just seems so perfect because I was about to graduate, so it just felt kind of full circle like you know I was about to graduate, I've been so involved in the Wayne State community with OptimizeWayne and Timmy Global Health and the Hands-Only CPR Challenge. It felt so great to be recognized for all that and it was motivation to continue doing what I've been doing at Wayne State at U of M.
How has the Honors College contributed over your four years at Wayne State?
Getting into U of M, for me, just wasn't just the application. I had applied to U of M and come October I haven't really heard back from them. So I was complaining to Sergio, and he made me listen to this podcast about this lawyer back in the 80's or who really wanted to be a lawyer and he wanted to apply to law school. Obviously, to apply to law school, you have to take the LSAT. He showed up on the day to take his LSAT and all the students around him were talking about how they had taken the LSAT prep courses that cost thousands of dollars and he was sitting there and he had only just read the informational pamphlet on what the LSAT even was. So clearly he bombed it. He still applied to law school, but he didn't get in anywhere. So a week before class starts he goes to the Dean of this particular law school that you want go to and he's sits outside of his office for a solid week saying, "please let me in or just tell me to buy my books. Just tell me to buy my books," every single time that the Dean passes. After a week of him just sitting there, the Dean finally says, "okay, go buy your books," and now that guy is a world famous lawyer that has used his lawyer ship to advocate for global justice.
So when I when I hadn't heard back from U of M about you know receiving an interview invitation, Sergio made me listen to that podcast i was like what are you saying? Are you telling me to go sit outside of the dean's office for a solid week? And Sergio was like well yeah, and I was like that's not really my vibe and I didn't feel comfortable doing that. So instead, I wrote the Dean a handwritten letter because I figured everyone is going to send emails and everyone can just copy paste something, but nobody can copy paste a handwritten letter. So I hand wrote a letter on this very pretty fancy letter head that I made for myself and I kind of just reiterated why I really wanted to attend the University of Michigan and then I went and I hand delivered it to his office.
The moral of that story is just I think Honors has taught me that you can't just take anything at face value. You can definitely just kind of go along with the flow and just do what is expected of you and hope that it turns out in your favor just based on who you are. But I think that working with Dr. Corvino and interacting with Dean Herron and being in Detroit and having exposure to the city that honors has provided me, it made me realize that you know you have to hustle. It's not just a matter of doing the bare minimum and hoping that everything turns out great, but it's matter of connecting with people and working with them and going above and beyond in a way that people wouldn't expect to really showcase who you are and to demonstrate that you really want something you work for it instead of just doing the bare minimum.
What was your favorite Honors moment?
Graduation (the Honors Ceremony) was kind of cool to see everyone in their caps and gowns in their Golden colors. I think, in retrospect, the first year of honors I felt when I was going through the two prerequisite courses - Honors 1000 and PS 1010 - and going to the Redford Theater or going to Eastern Market, it felt kind of like a mandated field trip. But in retrospect, I've gone back to Eastern Market on my own because I felt comfortable going back because I had gone with Honors and I have gone other places in Detroit and revisited it because I felt comfortable with kind of being in that environment and having that initial exposure. Even though I didn't feel like it at the time, I think that my favorite moment would have to actually seeing those places for the first time surrounded by my peers, surrounded by my professors and really being encouraged to explore because that kind of percolated throughout the rest of my career at Wayne State.
What advice would you give to incoming students to Wayne State and the Irvin D. Reid Honors College?
I would say to take advantage of every resource that's being offered to you. It may seem kind of silly to really kind of reach out to your Deans or reach out to administrators and try and work with them and try and be supported by them. It makes them feel like a teacher's pet or something, but at the end of the day, these people are individuals who have a lot of power and a lot of influence at the University and they can use that to lift up students who they recognize are really catalyst for change or are leaders in their community. So if you demonstrate that you are really trying to make an impact or that you're really interested in working with these administrators, Honors has a plethora of resources that can really uplift students. But I think taking advantage of your community and the resources in the individuals that holds is one of the best things that an honor student can do.