Detroit Fellows Tutoring Project
The most popular Honors College service-learning course, the Detroit Fellows Tutoring Project will allow you to earn 2, 3 or 4 credits for teaching reading skills to children in kindergarten through second grade in Detroit Public Schools. This opportunity is open to all WSU undergraduate students.
Requirements
Attend a training workshop on teaching basic reading skills   
Tutor in schools three to seven hours a week for one semester  
Attend seminars with fellow tutors and the project facilitator
Complete several writing assignments about your experience
Detroit Fellows work three (earns 2 credits), five (earns 3 credits) or seven (earns 4 credits) hours per week at their assigned school. The schedule is established by you based on your availability and the number of credits for which you sign up. Tutors work during regularly scheduled school hours: 7:30 a.m.-3:30 p.m.
You will work one-on-one and see two to three children in each one-hour time block. You will also be asked to participate in an end-of-term evaluation.
How to participate 
Register at http://pipeline.wayne.edu for HON 4930 (CRN 16764 & 16765) and elect 2, 3 or 4 credit hours, based on your weekly time commitment.
2 credit hours=3 hours of tutoring each week 
3 credit hours=5 hours of tutoring each week
4 credit hours=7 hours of tutoring each week
Learn more
Watch to learn more about the Detroit Fellows Tutoring Project through the perspectives of one of our WSU student tutors.
For more information, email detroitfellows@wayne.edu or call 313-577-3030.
Detroit Public Schools (DPS) Partner Schools
Detroit Fellows Tutoring Project currently serves eight DPS sites:
Bunche Elementary-Middle School
Clark Preparatory Academy
Golightly Education Center
Harms Elementary School
Maybury Elementary School
Roberto Clemente Academy
Ronald Brown Academy
Spain Elementary-Middle School
View map of our DPS partner schools (PDF)
My most memorable experience so far has been being involved in the Detroit Fellows Tutoring Project for my honors service learning course. It was an honor to put a lot of time towards reading with kids at Vernor Elementary School in Detroit. It made my day to see them smile as we read their favorite stories and get excited as they learned to read new words and sounds. – Mohammad Kang about the coordinators
The Tutoring Project began in 2003 as a collaborative effort between Guy Blackburn, the project's original coordinator, Kevin Rashid, the Honors College Curriculum and Research@Honors Coordinator, and Dale Thomas and Marcella Verdun, who worked in Detroit Public Schools as a reading coordinator and elementary school principal, respectively.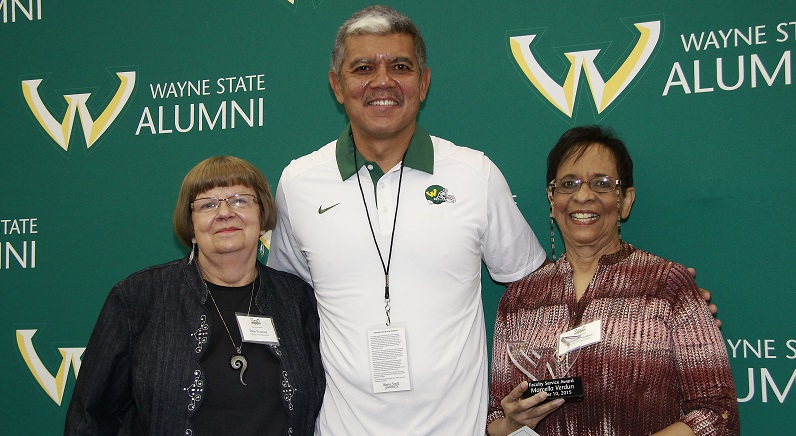 Photo: Project coordinators Dale Thomas (left) and Marcella Verdun are presented with a Faculty Service Award by WSU President Wilson in Oct. 2015
Thomas and Verdun took over the course full-time in 2006 when Blackburn passed suddenly. Since 2006, a total of 892 WSU students have gone through the course, tutoring 4,080 DPS students over a course of 46,284 hours.
"Together, the coordinators are a brilliant and selfless team dedicated to a critical mission: offering our WSU students skills in tutoring and an organized, profound experience in service while supporting Detroit's children at a crucial, early stage in their development of reading skills so they can catch up and excel," says Kevin Rashid.
Thomas and Verdun were awarded the Alumni Association's 2015 Faculty Service Award. The award is given to WSU faculty "whose professional or civic efforts have brought about a greater appreciation to the university's contribution to community service.